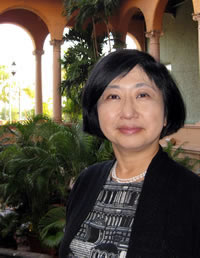 I am happy to report that the College of Arts and Sciences Center for the Humanities concluded a very successful 2009-10 academic year. We inaugurated the Center in November, with a lecture by Professor Marjorie Garber of Harvard University, on "Shakespeare and Modern Culture." The Center organized two well-attended symposia in cooperation with interdisciplinary faculty and graduate research groups sponsored by the Center: "Atlantic Narratives" and "Trans Global /Global Trans," on sexuality and globalism. The panel discussion that concluded each symposium can now be viewed on our website. Please also take a look at the BookTalk videos, which feature our faculty discussing their recently published books, as well as the Insight Tracks videos where humanities faculty provide commentary on area arts events. This program was supported by the Miami-Dade Department of Cultural Affairs, which awarded the Center a second year of funding for 2010-11. In addition, you can listen to the podcasts of many of the lectures we presented throughout the year.
For the coming year, we are fortunate to have visits by four Stanford Distinguished Professors. Anna Deavere Smith, Professor of Performance Studies at the Tisch School of the Arts, New York University, will present a lecture/performance on "The Changing Landscape of Doctor–Patient Relationships" on September 13. Chris Abani, Professor of English and Creative Writing at the University of California-Riverside and author of the acclaimed novels Graceland and The Virgin of Flames, and Catherine Hall, Professor of History at University College London and an authority on transatlantic slavery, will be giving a series of lectures and seminars during their week-long residences in the fall semester. Martha C. Nussbaum, Professor of Law and Philosophy at the University of Chicago, will speak on the topic of her recent book, Not for Profit: Why Democracy Needs the Humanities, on February 10. For spring 2011, we are planning two symposia: "Humanities Through the Classics: What does the Future Hold?"; and "The Present Future of Caribbean Studies" to celebrate the retirement of Professor of English Sandra Paquet. We will also host a major conference in April on the relationship between anthropology and the humanities: "Imagining Culture(s): Rethinking Disciplines."
In addition, the Center will present lectures by a variety of distinguished speakers.
We look forward to welcoming you to these events.
    Mihoko Suzuki