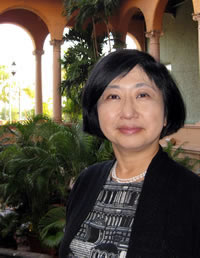 I write to you as "Taking Flight," the extremely eventful year-long celebration of the humanities and the arts, designated as such by President Donna E. Shalala, draws to a close. We firmly believe, however, that this is just the beginning of many years in which the humanities and the arts will be front and center at the University of Miami.
This year we welcomed four Stanford Distinguished Professors: Mark Juergensmeyer, a sociologist and expert on religious violence and terrorism; Temple Grandin, a professor of animal science who has changed our understanding of animal behavior and autism; Mary Garrard, a groundbreaking feminist art historian of Renaissance Italy; and Amitav Ghosh, acclaimed novelist whose work shines a light on cultural relations between South Asia and the West and within South Asia.
Professor Garrard presented the keynote for "Early Modern Women: New Perspectives," a conference held to celebrate the first issue of Early Modern Women: An Interdisciplinary Journal produced by the new editorial team at the Center. Dr. Ghosh presented the keynote lecture on writing about "polyglot worlds" for "Language and Democracy," a conference organized by the Center in collaboration with the School of Law and the Department of Modern Languages and Literatures.
In February, the Center presented a series of events around the theme of "Shakespeare in Miami," to coincide with the Ring Theatre's production of King Lear: a talk by Delpha Charles on "Shakespeare in a Caribbean Accent," two lectures on King Lear by Gail Kern Paster, Director Emerita of Folger Shakespeare Library, and post-performance "talk-backs" with the director, cast members, and UM's Shakespeare faculty.
In April, the Center moved to its new offices in Otto G. Richter Library. We thank Bill Walker, Dean of Libraries, and his staff for welcoming us to our new home, and Provost Thomas LeBlanc for his support in enabling us to occupy our greatly improved surroundings.
Next fall will bring Stanford Distinguished Professor Dava Sobel, author of Longitude and Galileo Daughters, and most recently A More Perfect Heaven: How Copernicus Rvolutionalized the Cosmos, to lecture on October 3. She will also participate in a forum on the relationship between literature and history in conversation with faculty from the History and English Departments, and will meet with students in the new Da Vinci Scholars program and faculty and graduate students in SEEDS.
Victor Mair, Professor of East Asian Studies, University of Pennsylvania, and distinguished scholar of Chinese culture and acclaimed Mexican journalist and public intellectual Alma Guillermoprieto will take up their residencies as Stanford Professors next spring.
Center programs of interest to faculty and graduate students will include seminars on digital pedagogies, mentoring, grant writing (fall), and professional development for graduate students (spring).
Finally, I again express my thanks to the faculty board for their wise advice on matters large and small, Dean Leonidas Bachas for his strong, thoughtful, and constant support of the Center and of the humanities, and to President Shalala for calling attention to the importance of the humanities on our campus and beyond. Those familiar with our programs already know that the Center's success owes a great deal to the creativity and dedication of Associate Director Kyle Siebrecht and Administrative Assistant Zureyka Carsi, and the hard work of Student Assistants Lainey Meiri, Jennifer North, Samantha Richard, and Devin Weinstein.
We at the Center thank you for the enthusiastic support you have already given us and look forward to welcoming you to our programs and events to come.
Mihoko Suzuki 
Director, Center for the Humanities
Professor of English