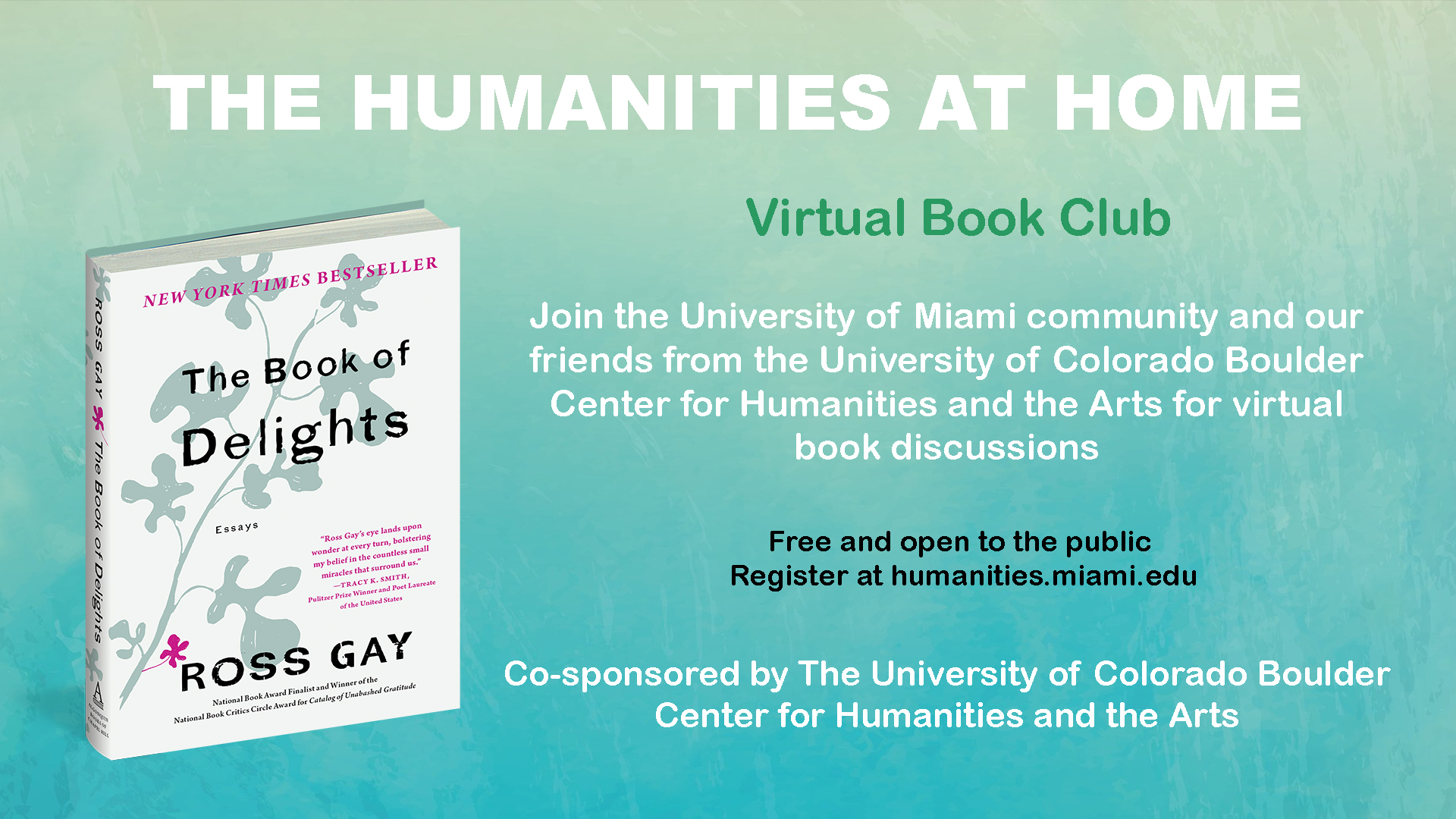 The University of Miami Center for the Humanities is pleased to partner with the Universty of Colorado Boulder's Center for Humanities and the Arts in presenting a virtual book club, as part of the Humaniites at Home initiative.  For April and May of 2020, we will be discussing Ross Gay's essay collection, The Book of Delights (Algonquin Books 2019), which the jacket blurb describes as: 

 
"one of today's most original literary voices offers up a genre-defying volume of lyric essays written over one tumultuous year. The first nonfiction book from award-winning poet Ross Gay is a record of the small joys we often overlook in our busy lives. Among Gay's funny, poetic, philosophical delights: a friend's unabashed use of air quotes, cradling a tomato seedling aboard an airplane, the silent nod of acknowledgment between the only two black people in a room. But Gay never dismisses the complexities, even the terrors, of living in America as a black man or the ecological and psychic violence of our consumer culture or the loss of those he loves. More than anything else, though, Gay celebrates the beauty of the natural world—his garden, the flowers peeking out of the sidewalk, the hypnotic movements of a praying mantis."
Gay was also recently part of a This American Life episode on delight.

 
How the Virtual Book Club works:
Since the book is comprised as a series of 102 very short essays, we will divide the book into quarters so people can participate as they are able.  The suggested reading schedule is:
By April 17: Chapters 1-25
By April 24: Chapters 26-50
By May 1: Chapters 51-75
By May 8: Chapters 76 – 102
 

If you are interested in participating, you'll be asked to complete a brief form (see below) and we will follow up with more detailed instructions by email.  There will be two main ways to participate: 
We hope to offer 1-2 discussion sessions via Zoom.  These sessions will be led by UM faculty.  Those from the Boulder cohort may also choose to join these sessions and likewise, any Miami cohort partcipant may request to participate in the Boulder zoom meetings, although they are on a slightly different reading schedule.
All participants will be given access to a "Slack workplace," a messaging platform that allows all readers to respond to specific discussion topics and to exchange thoughts and ideas. You can download the free Slack app here and watch a tutorial for those unfamiliar with using Slack.
How to sign up:
If you'd like to sign up, please complete this form. This virtual book club is open to anyone interested in participating, whether they are affiliated with CU Boulder or University of Miami, live in Colorado or Florida, or are somewhere in the world and want to join in a discussion of Ross Gay's The Book of Delights.  You will have the option to indicate interest in the Slack messaging tool, the Miami cohort zoom meetings, or both.  Registrants will be emailed details on how to join the Zoom and Slack discussions.

We encourage you to sign up by Friday, April 10 to stay on track with the reading schedule, but will accept new members through May 2020.  

 
How to access the book: