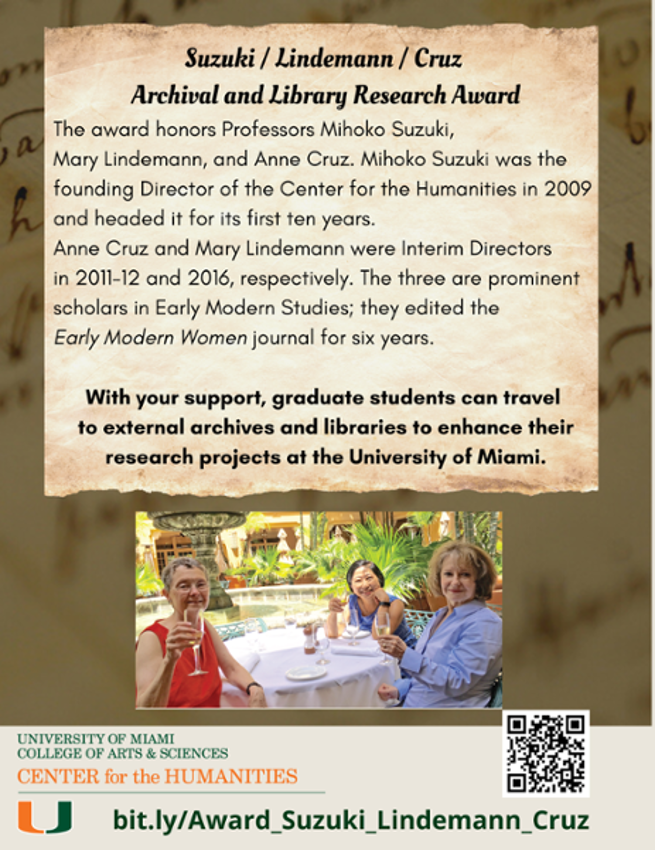 To support the Suzuki / Lindemann / Cruz Archival and Library Research Award, please use the link or QR Code above or click on the following button:

For many dissertation projects, travel to libraries and archives is crucial. The Suzuki/Lindemann/Cruz Award is designed to help graduate students fund research trips. It may be used for brief journeys for archival research trips but may also be used to supplement other sources of funding for more extensive research travels. The funds are available anytime in the year following the competition, including the summer. 
Applications are due in spring of each year; the exact deadline and specifications are announced well in advance of the deadline. These require a proposal, budget, and a letter from the student's advisor. Winners will be reimbursed for expenses based on the submission of acceptable receipts documenting legitimate research costs as specified in the original application.
---
Mihoko Suzuki, Professor of English and Cooper Fellow in the Humanities, Emerita, served ten years as the Founding Director of the Center for the Humanities at the University of Miami. She earned her AB in an interdisciplinary major, History and Literature, in the College Scholar Program at Cornell University, and her PhD in Comparative Literature at Yale University. Her scholarship currently focuses on Renaissance and early modern literature and culture, English and European, with an emphasis on gender, politics, and authorship. She has also published on the classical tradition and the relationship between Japan and Western Europe during the early modern period. Her authored and edited books include: Metamorphoses of Helen: Authority, Difference, and the Epic (Cornell University Press, 1989); Subordinate Subjects: Gender, the Political Nation, and Literary Form in England, 1588-1688 (Routledge, 2003); The Rule of Women in Early Modern Europe; Debating Gender in Early Modern England, 1500-1700 (Palgrave Macmillan, New York, 2002); and Antigone's Example: Early Modern Women's Political Writings in Times of Civil War from Christine de Pizan to Helen Maria Williams (Palgrave Macmillan, Cham, 2022). She served as coeditor of Early Modern Women: An Interdisciplinary Journal and currently coedits Renaissance Quarterly and a book series, New Transculturalisms, 1400-1800. 
For an extended overview of Suzuki's scholarship, please click HERE.
---
Mary Lindemann is Professor Emerita of History and former Chair of the Department of History at the University of Miami. She received her Ph.D. in History from the University of Cincinnati in 1980, taught at the University of North Carolina, Wilmington (1982-1982), at LeMoyne College (1983-1987), and at Carnegie Mellon University (1987-2004) before becoming a faculty member of the University of Miami in 2004. She is a leading expert on the history of early modern Europe, the history of Germany, and the history of medicine. Lindemann is the author of several books: Patriots and Paupers: Hamburg, 1712-1830 (Oxford University Press, 1990); Health and Healing in Eighteenth-Century Germany (Johns Hopkins University Press, 1996); Medicine and Society in Early Modern Europe, (Cambridge University Press, 1999; 2nd ed., 2010); Liaisons dangereuses: Sex, Law, and Diplomacy in the Age of Frederick the Great (Johns Hopkins University Press, 2006); and The Merchant Republics: Amsterdam, Antwerp, and Hamburg, 1648–1790 (Cambridge University Press, 2015). She is currently working on a study of the rebuilding of Brandenburg after the Thirty Years War.
For an extended overview of Lindemann's scholarship, please click HERE.
---
Anne Cruz is Professor Emerita in Early Modern Spanish Literature and Culture as well as Gender Studies in the Department of Modern Languages and Literatures (MLL) at the University of Miami. She also served as Chair of MLL from 2003 until 2008. Prior to her appointment at the University of Miami in 2003, Cruz held positions at the University of Illinois, Chicago (1995-2003); and the University of California, Irvine (1982-1995). Cruz earned her PhD and AM from Stanford University in 1982; and her AB from Stanford in 1975. She is the author or The Life and Writings of Luisa de Carvajal y Mendoza (University of Toronto Press, 2014); Approaches to Teaching Lazarillo de Tormes and the Picaresque Tradition (Modern Language Association, 2008); Symbolic and Material Circulation between Spain and England, 1554-1604 (Ashgate, 2008); Discourses of Poverty: Social Reform and the Picaresque Novel in Early Modern Spain (University of Toronto Press, 1999); and Imitación y transformación: El petrarquismo en la poesía de Boscán y Garcilaso de la Vega (John Benjamins, 1988). Cruz has published over 130 articles and chapters in Spain, Italy, and the United States (1988-2022).
For an extended overview of Cruz's scholarship, please click HERE.
---