The Lady Blanka Rosenstiel Endowed Program in Polish Heritage is made possible by a generous gift to the Univeristy of Miami by Lady Blanka Rosenstiel, in collaboration with the American Institute of Polish Culture.  The gift, made in 2021, is intended to support program events and activities designed to celebrate Polish people and Polish culture.  The Program is aligned with Rosenstiel's committment to educating US citizens about the rich history of Poland and the substantial scientific, scholarly, and artistic contributions made by those of Polish decent.  The Center for the Humanities is pleased and honored to lead efforts in coordinating the Program at the University of Miami, in partnership with the College of Arts & Sciences and the American Institure of Polish Culture. 
The Program is scheduled to feature its unaugural event in Fall 2021.  Please return to this page for updates on event details.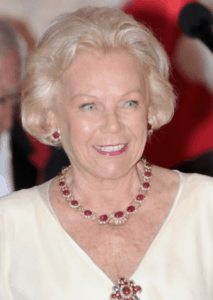 Lady Blanka Rosenstiel was born in Warsaw, Poland.  Following World War II, she studied art in Brussels, Belgium before moving to the United States in 1956.  In 1967 she married the late Lewis S. Rosenstiel, Chairman of Schenley Industries, a renowned humanitarian and philanthropist. 
Her avid interest in the arts, dedication to helping young artists, and desire to promote Poland's heritage while fostering culture in her American homeland, prompted Rosenstiel to establish The American Institute of Polish Culture, Inc. (AIPC) in 1972, based in Miami.  The Institute shares with American society the rich heritage of Poland and serves as a center of educational facilities and resources for the encouragement and promotion of the scientific and aesthetic endeavors of Americans of Polish decent.  In 1977, Rosenstiel established the Chopin Foundation of the United States, a national organization dedicated to helping young American musicians, and promoting Chopin's music in the United States.  In 1998 she helped to establish a permanent Kosciuszko Chair of Polish Studies at the University of Virginia.  Each year the Institute awards scholarships in the field of journalism, communication or public relations to talented students of Polish origin. 
Rosenstiel has been awarded numerous titles and honors including her being appointed an Honorary Consul of the Republic of Poland in 1998.  Other honors and awards include: 
Community Television Foundation of South Florida, Inc. – PB Award, 1975, 1976
Outstanding Citizen's Award of Dade County, FL, 1975
Polish American Congress, Florida Division – Certificate of Appreciation, 1975,
Biscayne College Award, 1976,
International Fine Arts College of Miami – Doctor Honoris Causa, 1976,
Alliance College of Cambridge Springs, PA – Doctor of Humane Letters, 1978,
American Council of Polish Cultural Clubs National Award, 1978,
National Advocates Society and National Medical and Dental Association – National Humanitarian Award, 1981,
St. Mary's College – Orchard Lake, MI – Ambassadors Award, 1981,
Miami Ballet Society Humanitarian Award, 1983,
National Parkinson Foundation Humanitarian Award, 1983,
American Council of Polish Cultural Clubs Award, 1984,
Lady of the Sovereign Order of St. John of Jerusalem, Knights of Malta, 1984,
Am-Pol Eagle – National Citizen of the Year Award, 1985,
Florida International University – The Society of Founders Award, 1989,
Greater Miami Youth Symphony Award, 1994,
Orchard Lake Schools – Honorary Benefactor and Alumna, 1994,
Admirals of the Fleet of Florida – Woman of Distinction Award, 1995,
Ellis Island Medal of Honor, 1995, Cavalier's Cross of Polonia Restituta Order, 1996,
Jose Marti Medal, 1998,
Polish Commander Cross of the Order of Merit, 2004