---
PROGRAMS (2022-2023)
Thursday, October 27, 2022 @ 7:00pm. Ambassador Marek Magierowski, "Poland's Response to the War in Ukraine." Lady Blanka Rosenstiel Endowed Program in Polish Heritage, Inaugural Series 2022-2023. Kislak Center at the University of Miami Libraries, Coral Gables.
Thank you for registering for this evening's program @ the Kislak Center at the University of Miami. The weather is beautiful, and we are including step-by-step directions for your walk that should be a little less than 10 minutes in duration from Pavia Garage to the Kislak Center. 

 for directions from Pavia Garage to Kislak!
We look forward to your attendance at 7:00pm this evening!
Livestreaming: If you are unable to attend in-person, please join the Facebook page of The American Institute of Polish Culture for the livestream of the lecture or to access information about additional AIPC events!
The full recording of Thursday's talk is now available. Thank you for your presence and support as well as to Tom Tomaszewski for documenting the program in video!

 to view the program's video recording!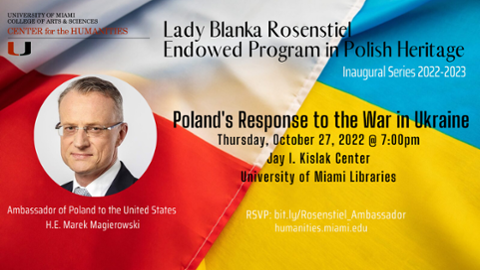 "From the very beginning of the Russian invasion of Ukraine, Poland has abruptly become a frontline state. Absorbing and accommodating endless waves of refugees, delivering humanitarian assistance to Ukraine, and propping up its military effort to fend off the Russian aggressor. Poland's perception as an important geopolitical node has risen significantly, as has its overall standing on the international stage. Will recent developments lead to a long-term shift in European politics, with Poland as a new crucial player?"
Marek Magierowski was born in 1971. He graduated from the Adam Mickiewicz University in Poznan with a degree in Hispanic Studies. He worked as a reporter, editor and columnist for over 20 years. He was, among others, the deputy head of the economic desk at "Gazeta Wyborcza," the head of the foreign affairs desk and the business section at the "Newsweek Polska" weekly, and the deputy editor-in-chief of "Forum." From 2006-2011, he was the deputy editor-in-chief of "Rzeczpospolita." He regularly wrote columns on foreign policy for the "Uważam Rze" and "Do Rzeczy" weeklies. In October 2015, he left journalism to work for the Chancellery of the President of the Republic of Poland as an expert on public diplomacy, and was subsequently appointed Head of the Press Office of the Chancellery of the President. From June 2017 to May 2018, he served as Undersecretary of State at the Ministry of Foreign Affairs. Marek Magierowski served as Ambassador Extraordinary and Plenipotentiary of the Republic of Poland to the State of Israel from June 25, 2018, to November of 2021.