Amitav Ghosh
Award-Winning Author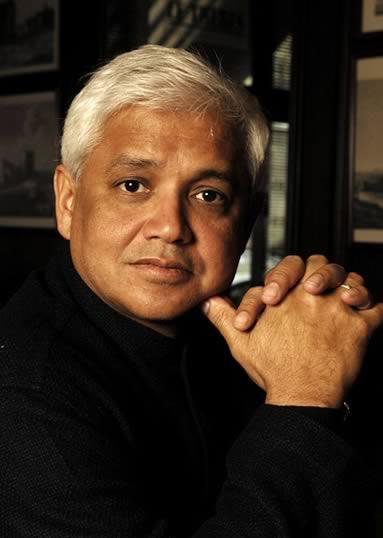 China and the Making of Modern India
Tuesday March 19, 2013 — 4:30pm
CAS Gallery/Wesley Foundation
1210 Stanford Drive
Coral Gables, FL 33146
Speaking of Babel: 
The Risks and Rewards of Writing About Polyglot Worlds
Thursday March 21, 2013 — 7:00pm
CAS Gallery/Wesley Foundation
1210 Stanford Drive
Coral Gables, FL 33146
Click Here for Event Photos and Video
---
Amitav Ghosh is one of India's best-known writers. Born in Calcutta, he studied in Delhi, Alexandria, and Oxford, where he earned a doctorate in Anthropology. Ghosh's books include The Circle of Reason, The Shadow Lines, In An Antique Land, Dancing in Cambodia, The Calcutta Chromosome, The Glass Palace, Incendiary Circumstances, The Hungry Tide, as well as Sea of Poppies and The River of Smoke which are the first two volumes of the Ibis trilogy.
"With River of Smoke, Ghosh's Ibis trilogy is emerging as a monumental tribute to the pain 
and glory of an earlier era of globalization"
— The Washington Post
The Circle of Reason was awarded France's Prix Médicis in 1990, and The Shadow Lineswon two presitigious Indian prizes the same year, the Sahitya Akademi Award and the Ananda Puraskar. The Calcutta Chromosome won the Arthur C. Clarke award for 1997 and The Glass Palace won the International e-Book Award at the Frankfurt book fair in 2001. In January 2005, The Hungry Tide was awarded the Crossword Book Prize, a major Indian award. His novel, Sea of Poppies was shortlisted for the 2008 Man Booker Prize, and was awarded the Crossword Book Prize and the IndiaPlaza Golden Quill Award.
"...a writer with a historical awareness and an appetite for polyphony that are equal to the immense demands of the material he
seeks to illuminate..."
— Chandrahas Choudhury
The New York Times Book Review
Amitav Ghosh's work has been translated into more than twenty languages. His essays have been published in The New Yorker, The New Republic and The New York Times. He has taught in many universities in India and the USA, including Delhi University, Columbia, Harvard, and Queens College. In January 2007 he was awarded the Padma Shri, one of India's highest honors, by the President of India. He was the recipient of a Dan David Award for 2010, which recognizes achievements that shape and enrich society today.