HENRY KING STANFORD DISTINGUISHED PROFESSOR
IN THE HUMANITIES
Dominic McIver Lopes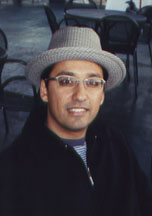 ---
On

 

Understanding Pictures

: "This is philosophical writing of a very high order, to my mind. Lopes is a master of simple, intriguing and compelling arguments."

 

- Gordon Graham,

 

The Philosophical Quarterly

---
Dominic Lopes is Distinguished University Scholar and Professor in the Department of Philosophy at the University of British Columbia. He works mainly in aesthetics and is a member of UBC's aesthetics group. His research focuses on: pictorial representation and perception; the aesthetic and epistemic value of pictures, including scientific images; theories of art and its value; the ontology of art; and computer art and new art forms.
His books include
A Philosophy of Computer Art
(2009),
Sight and Sensibility: Evaluating Pictures
(2005), and
Understanding Pictures
(1996). His current project,
Beyond Art: Foundations of Appreciation
, for Oxford University Press, discusses theories of art, the arts, and their value. He is also co-editing (with Diarmuid Costello) a special issue of the
Journal of Aesthetics and Art Criticism
on the media of photography. Professor Lopes is the recipient of the Indiana University Teaching Excellence Award, the American Society for Aesthetics Outstanding Monograph Prize, and the 1997 Philosophical Quarterly Essay Prize.
---
On
Computer Art
: "In this groundbreaking book, Dominic McIver Lopes offers a rigorously argued, tightly formulated and highly original account of computer art. Rich in examples and brimming with insights, it will provide everyone interested in computer art with a deeper understanding and appreciation of this fascinating art form." - Berys Gaut,
University of St. Andrews, UK
---