‌Nilo Cruz
Thursday, September 15, 2011  7:00 pm
More ...
Nilo Cruz was born in Cuba in 1960, and immigrated to Miami with his family when he was nine years old. He grew up in Little Havana, and studied theater at Miami Dade Community College; he earned his MFA from Brown in 1994. As playwright-in-residence at the New Theatre in Coral Gables, he wrote Anna in the Tropics, which was awarded the Pulitzer Prize for Drama in 2001 and has been performed on Broadway and in theaters across the country. His most recent play, The Color of Desire, premiered at the Actors' Playhouse in Coral Gables. Cruz has taught drama at many universities, including Brown, Yale, and the University of Iowa.
---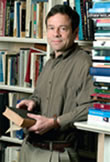 ‌Alan Lightman
Wednesday, March 28, 2012  7:00 pm
More ...
As both a distinguished physicist and an accomplished novelist, Alan Lightman was the first professor at MIT to receive a joint appointment in the sciences and the humanities. His essay "In the Name of Love?" about love and language was published in Nature (October 8, 2001), and his "The First Law of Thermodynamics" was the first short story published in Physics Today (May 2005). He has lectured at more than 100 universities. Lightman's essays, short fiction, and reviews have appeared in, among others, The American Scholar, The Atlantic Monthly, Daedalus, Discover, Granta, Harper's, Nature, New Yorker,  New York Review of Books, New York Times, and Smithsonian.
Lightman's novel Einstein's Dreams (1993) was an international bestseller and has been translated into thirty languages; it has been adopted at numerous colleges and universities for "common-book" programs, and has been the basis of more than two dozen independent theatrical and musical productions. The Diagnosis was a finalist for the 2000 National Book Award in fiction and Reunion (2003) was a Washington Post bestseller; both were Barnes and Noble national college bestsellers. His most recent book, The Discoveries: Great Breakthroughs in 20th Century Science, was named by Discover Magazine as one of the ten best books on science in 2005.
---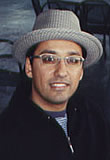 ‌Dominic McIver Lopes
Thursday-Wednesday, November 3-9
, 2011 
More ...
Dominic Lopes is Distinguished University Scholar and Professor in the Department of Philosophy at the University of British Columbia. He works mainly in aesthetics and is a member of UBC's aesthetics group. His research focuses on: pictorial representation and perception; the aesthetic and epistemic value of pictures, including scientific images; theories of art and its value; the ontology of art; and computer art and new art forms. His books include A Philosophy of Computer Art (2009), Sight and Sensibility: Evaluating Pictures (2005), and Understanding Pictures (1996). His current project, Beyond Art: Foundations of Appreciation, for Oxford University Press, discusses theories of art, the arts, and their value. He is also co-editing (with Diarmuid Costello) a special issue of the Journal of Aesthetics and Art Criticism on the media of photography. Professor Lopes is the recipient of Indiana University Teaching Excellence Award and the 1997 Philosophical Quarterly Essay Prize.