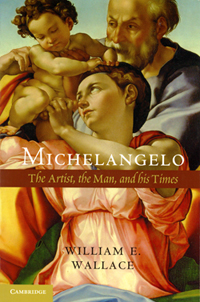 "...the artist who emerges from these pages is paradoxically a far richer character than the one captured in fiction—as complicated as his art, and as fiercely intelligent as his times." 
— Ann Landi, ArtNews
In 1505, the newly elected Pope Julius II called Michelangelo to Rome to carve his tomb, envisioned to be the most grandiose funerary monument since classical antiquity. After eight months quarrying marble, Michelangelo returned to Rome only to discover that the pope's attention had turned to war and the building of the new St. Peter's. Not until 1508 was the artist compelled back to Rome—not to renew work on the tomb, but to undertake a task ill-suited to a marble sculptor: the painting of the Sistine Chapel ceiling. Michelangelo had no previous experience directing a large-scale campaign in the demanding medium of fresco. But here he employed more than a dozen painters and craftsmen to help carry out the herculean project: hauling water up 65 feet of treacherous ladders, slaking lime for plaster, grinding and mixing pigments, pricking and transferring preparatory drawings, and painting miles of architecture and ornament. Michelangelo's objection that "painting is not my art" proved weak against the will of the pope. But once reconciled to the task, the artist devoted enormous energy to creating a masterpiece. William Wallace concludes that Michelangelo di Lodovico di Buonarotti Simoni was not, or at least not only, the epitome of the lonely, tormented, quarrelsome genius.