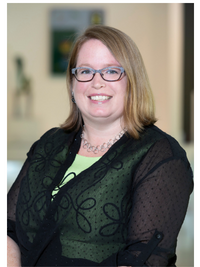 Dr. Christina Larson was named Assistant Director at the Center for the Humanities in September 2021. As someone who has studied humanities-related disciplines and who is passionate about scholarship and learning, she was delighted to assume this role at the University of Miami. She initially came to the University of Miami in November 2017 as the Andrew W. Mellon Fellow in Academic Engagement--a four-year, grant-funded position. In this role, she worked closely with her colleagues at the Lowe Art Museum and University of Miami Libraries to promote the cultural resources of artwork, artifacts, and archives for teaching, learning, and research purposes for faculty and students. Most importantly, Larson made creative connections with a wide scope of disciplines at the University of Miami, paving new ways to engage with the University's cultural resources. Larson encouraged curricular visits that featured these cultural resources, and she also oversaw the Andrew W. Mellon CREATE Grants Program that supported faculty projects with these collections. Larson has researched, published, and presented on teaching with primary sources and object-based learning at the college level.
Prior to her four-year appointment at the University of Miami, Larson worked for the Toledo Museum of Art (Toledo, Ohio); Cleveland Museum of Art (Cleveland, Ohio); Special Collections at Kelvin Smith Library, Case Western Reserve University (Cleveland, Ohio); University Archives, Case Western Reserve University (Cleveland, Ohio); Project Art, University of Iowa Hospitals and Clinics (Iowa City); University of Northern Iowa (Cedar Falls, Iowa); Cedar Rapids Museum of Art (Cedar Rapids, Iowa); University of Iowa Museum of Art (Iowa City); and the Iowa Children's Museum (Coralville, Iowa). Much of Larson's experience has centered on academic programs, education, and curatorial projects. In addition to her museum and library experience, Larson has also taught at the college level, including English as a Second Language (ESL), advanced composition, and art history courses.
Larson received her Ph.D. in art history (2015) and Master's degree (2007) in Art History and Museum Studies from Case Western Reserve University in Cleveland, Ohio. Her undergraduate degree is in Art History and English (2000), with a Certificate in Museum Studies (2005) from the University of Iowa in Iowa City.
Email: clarson@miami.edu 
Portfolio: https://christina-f-larson.squarespace.com/ 
Phone: 305-284-1557