Alice Dreger
Historian of Medicine and Science

Galileo's Middle Finger: Why Social Progress Depends on Freedom of Inquiry
Thursday, September 22, 2016 at 7:00pm
Storer Auditorium / UM School of Business Administration
5250 University Drive, Coral Gables, FL 33146
Free & Open to the Public
---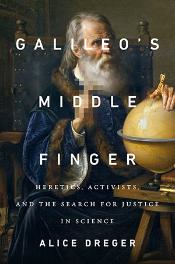 At American universities today, academic freedom is under threat on multiple fronts. What university faculty and students may research, teach, publish, and speak is increasingly restricted by, for example, university administrators taking a corporate branding approach, conservative politicians seeking to restrain progressive academics, and identity politics activists determined to push their causes even at very high costs. Drawing on her book, Galileo's Middle Finger, Alice Dreger will use multiple case studies (including from her own tumultuous career) to explore the history and risks of this trend, including the dangers now posed to social progress in America by restrictions on academic freedoms. She argues for the value of protecting academic freedom, even when it means protecting those with whom we strongly disagree.
"Lying and deceit have been around for a long time—forever, probably—but what makes Dreger's book so compelling is where she dug them up: among health activists, academics and ethicists who we normally associate with honesty and integrity. . . . Like her hero Galileo, Dreger believes that the 'real' truth does exist and we are all for the worse when we don't seek it out. It is an argument that deserves more of our attention." — Forbes.com
‌Alice Dreger is a historian of medicine and science, a sex researcher, a mainstream writer, and a patient advocate. Her book, Galileo's Middle Finger (Penguin, 2015), was funded by a Guggenheim Fellowship, and has been praised in Nature, Science, The New Yorker, The Chronicle of Higher Education, New York Magazine, and Salon. It was named an "Editor's Choice" by The New York Times Book Review, where Dreger has been described as "a sharp, disruptive scholar." She is also the author of One of Us: Conjoined Twins and the Future of Normal (Harvard University Press, 2005); Hermaphrodites and the Medical Invention of Sex, 3rd ed. (Harvard University Press, 2000); and Intersex in the Age of Ethics (University Publishing Group, 1999).
Dreger has acted as a consultant to pediatric specialists undertaking clinical reform particularly in the treatment of children born with norm-challenging body types. Former chair of the Intersex Society of North America, she also served as an ethics consultant to an NIH-funded Translational Research Network on pediatric intersex care and co-edited a medical education guide on LGBT and Differences of Sex Development for the Association of American Medical Colleges. She has been on the faculty of several major universities, including most recently (2005-2015) as a full professor in Medical Humanities and Bioethics at Northwestern University's Feinberg School of Medicine.
Dreger has served as a regular writer for the health section of The Atlantic and for the blog of Psychology Today. Dreger's TED lecture, "Is Anatomy Destiny?," has been viewed over a million times, and she has appeared on media programs such as Oprah, Good Morning America, and NPR, and in many original documentaries, including for A&E, ABC, Discovery, PBS, and HBO.